Product Description
Discover the allure of Silvertop Ash Radial Battens for your outdoor space.
Our robust hardwoods effortlessly elevate your entertainment area, fusing style with practicality.
Watch as your outdoor haven transforms into a stunning, functional retreat.
These battens can be used to:
Screen off areas in style
Upgrade a boring picket gate with some radial battens
Elevate your entertaining space by using this product as decking
You will feel at ease knowing that Radial Timber is sustainably sourced.
Radial Timber is doing everything they can to ensure they can become fully self-sufficient, by managing their own saw log plantation of durable hardwood in Gippsland.
Due to its unique shape, they can get more timber from one log, which means they need fewer logs to meet timber requirements.
Another benefit to this beautiful timber is that it reaches a BAL 29 rating, so it is suitable to use in Bush Fire Prone areas.
It is rated as a Class 2 hardwood, which means it's long-lasting and durable.
Its estimated life span in a protected indoor area is 50+ years, 30+ years when used outdoors and above-ground, lastly, inground use can see this timber lasting approximately 15-25 years.
Enhance the natural look of this timber by getting it precoated with Cutek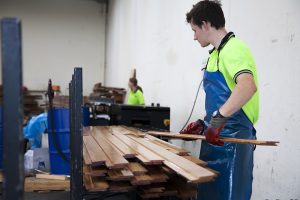 Additional Information
| | |
| --- | --- |
| Weight | 1000 kg |
| Dimensions | 100 x 4.2 x 1.9 mm |
| Length | Random Lengths (per lineal metre), 1.2 Metres, 1.5 Metres, 1.8 Metres, 2.1 Metres, 2.4 Metres, 2.7 Metres, 3.0 Metres, 3.3 Metres, 3.6 Metres |
| Size | 55×19, 55×40 |