Product Description
Support your walls the "Proppa" way!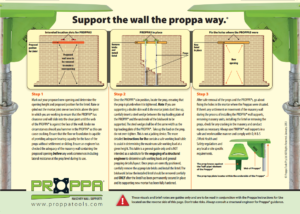 Build to last.
The Wall Proppa is made up of a durable steel plate and an attachment designed to securely sit into standard builders props with a 150 mm head
Reduces damage.
This system works by the plate sitting in between the brick coursework, saving unnecessary damage to the bricks or framework that would later need to be repaired.
Saves time and money.
The Wall Proppa is a cost and productivity effective solution which easily cuts down on the man power required on site and cuts down on time by removing the need to line up props and needles.
Structurally Sound.
Built to be used across multiple jobs, holding weights up to 340 kg and comes with a coating designed to prevent corrosion.