Product Description
Find out why professionals in the USA are loving the new EdgeClip and EdgeXClip from Camo Fasteners
The traditional method of fixing composite decking requires fasteners such as Trex Hideaway.
These fasteners are partially screwed into position while the next board is pushed into place. They are then screwed the rest of the way in.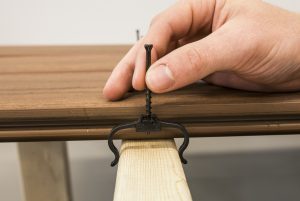 Introducing the EdgeClip
EdgeClips grab the joist so there is no need to "start" the screw. The beauty of this method, is that all the boards can be laid out with EdgeClips in position before a single screw has been driven in. You can work out exactly where your first and last board will be placed and easily avoid that unsightly "small ripped board" at the edge of the deck.
Once everything is right you can then screw off the deck using the Camo Never-Miss™ Guide that directs the driver bit perfectly onto the screw head every time! These are included free in every box.
For the Professionals, make sure you get your hands on the Camo Drive Stand Up Tool with Clip Guide. As well as being super quick, your knees and back will thank you for it too. For the Melbourne based DIY'ers this tool is available to hire from us too. (nb. Does not include drill. Contact Us for more information.)
What if your joists aren't perpendicular? Enter the EdgeXClip. Instead of hugging the joist, the EdgeXClip is inserted into the decking groove by pinching the small wings.
EdgeClip screws are a 410 Stainless Steel grade and are 65mm long for extra joist penetration. EdgeClip Fasteners have up to 88% better lateral strength than their competition. Why don't you come and see us in store for a demonstration.
Additional Information
| | |
| --- | --- |
| Weight | kg |
| Dimensions | N/A |
| Joist Material being screwed into | Steel, Timber |
| Clip Type | EdgeClip, EdgeXClip |
| Quantity | 90, 450, 900 |