Product Description
PRE-PRIMED TREATED TIMBER
Don't be fooled by blue imitations, ask for Design Pine by name. Install and paint is the philosophy behind Design Pine as it continues to set a precedent for quality and durability across Australia. The combination of an innovative new preservative and a genuine BLUE primer gives Design Pine the edge.
These easy-to-use primed products are perfect for your next project, no matter if it's a small veranda, cladding a house or creating a dream entertainment area. Design Pine has a profile for you.
Sizes Available
| | | | | | | |
| --- | --- | --- | --- | --- | --- | --- |
| 42x18 | 66x18 | 90x18 | 138x18 | 185x18 | 230x18 | 280x18 |
| 42X31 | 66x30 | 90x30 | 138x30 | 185x30 | 230x30 | 280x30 |
| 42X42 | 66x42 | 90x42 | 138x42 | 185x42 | 230x42 | 280x42 |
| | | | 140x65 | 180x65 | 240x65 | 280x65 |
UTILISES FINGER JOINT AND OR LAMINATION TECHNOLOGY
You want to get the best results for your job, whether it's building a stylish deck, creating a pergola for a new home or installing a door. Design Pine has a genuine primer coat applied and is a trusted timber product for a range of projects. Guarantee the structures you build are secure and safe, and ensure ultimate customer satisfaction long after the job is done.
About Our Structural Timber and Decorative Timber
Design Pine is a range of structural and decorative timber products coated with a genuine primer. Impregnated with a preservative to prevent the onset of decay and resist insect attack in all above ground applications, Design Pine is finger jointed and/or laminated for increased dimensional stability to give a reliable product for years to come.
All finger jointed primed pine products are made up of four key components, these being the timber, the preservative, the glue system, and the primer system. Each one of the defined components can vary in quality and performance, each should be evaluated on their own merit prior to selecting a product. Design Pine does not jeopardise its quality as only the finest quality components are used to create the ultimate outdoor timber solution.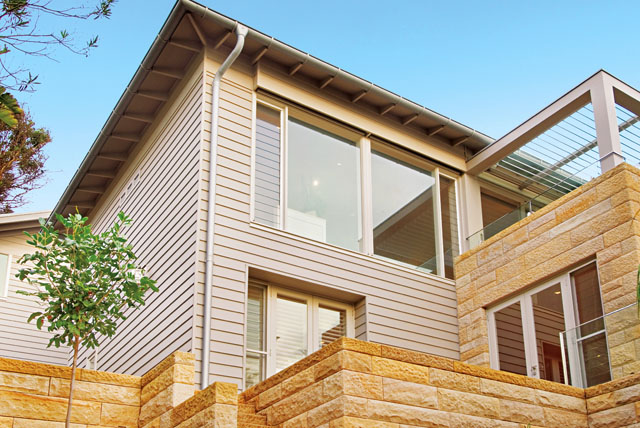 The Timber
Design Pine is manufactured from environmentally friendly sustainable plantation grown Radiata pine. Through the manufacturing process all the natural features and defects which may induce the timber to bow or twist are removed. The pine shook is then finger jointed back together to produce a clear defect free straight board. The removal of the all visible natural defects reduces the risk of resin bleed and other impurities coming to the surface for the life of the product. Lamination may also be used to increase the product range by creating larger Design Pine profiles e.g. 185×185 posts or 320×65 beams. The lamination also assists in the structural and dimensional integrity as the finished products are longer, stronger and straighter than conventional solid Radiata boards.
The Primer System
Design Pine's revolutionary blue primer has greater flexibility and UV resistance to give a more durable undercoat for the life of the painting system. The technology in the Design Pine primer was a world first the time of release as it includes a moisture management system to slow moisture ingress and durability second to none as it can remain exposed on a building site for 12 weeks before it will start to deteriorate, thus aiding to the dimensional stability long term performance of the product range. Developed over three years, the Design Pine primer is specifically designed to coat solvent-based timber preservation systems. The result is a genuine primer coating that is ready to directly topcoat with any quality exterior paint.
All blue primer systems are not the same – ask for Design Pine by name.
Where is Design Pine best used?
Design Pine comes in a wide range of profiles, which can be used in all above ground applications. Some examples include:
Pergolas
Carport
Verandas
Handrails
Weather Boards
Barge Boards
Fascia
Privacy Screens
The glue system
All Design Pine profiles utilise an external glue system to allow its use in Service Class 3 applications are defined in the Australian Standards as being external exposed, for example a pergola without a roof.
The preservative
All products in the Design Pine range utilise an innovative organic preservation system and are rated to hazard level 3 (H3) for all above ground applications. The preservation system is free of heavy metal allowing Design Pine be used in high contact areas as specified by the APVMA. Waxes and resin are used in the preservative to aid dimensional stability over the life of the product in application by they reduce the rate of moisture uptake into the timber.
This proven preservation system increases durability, resists rot and decay, increases resistance to insect attack and is covered by a limited 25-year durability guarantee.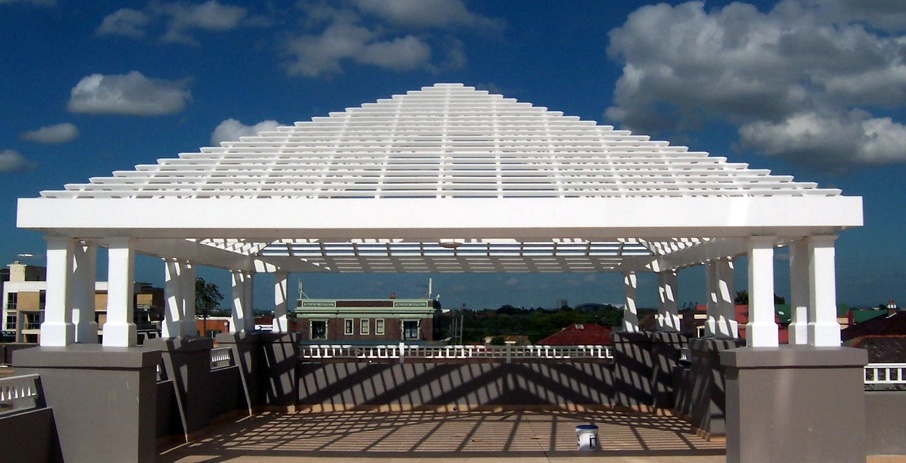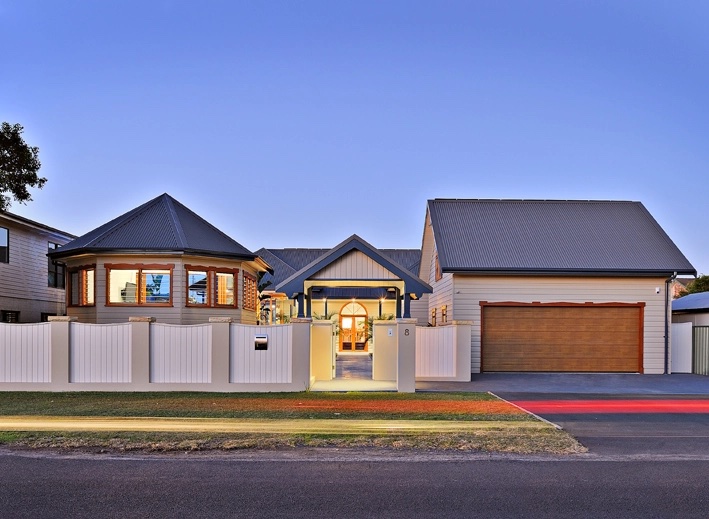 Painting
Timber is a natural material and thus the use of light coloured topcoats is recommended. Dark colours tend increase the boards temperature and may lead to problems such as surface checking and resin bleeds. An optimum finish is obtained with two topcoats of quality exterior paints within 12 weeks of installation.
First remove all dirt etc, and prime all bare areas with Design Pine exterior primer. If the primer surface is exposed to weather for an extended period without painting (3+ months), the surface may become chalky. If this happens sanding and repriming is required. Painted Design Pine creates a beautiful glossy finish.
Disposal
While Design Pine is treated, it remains a non-hazardous waste. Thus, private and commercial users can dispose of cuts through normal waste refuse. Design Pine timber off cuts should not be burnt as domestic fuel nor supplied for mulching or animal bedding.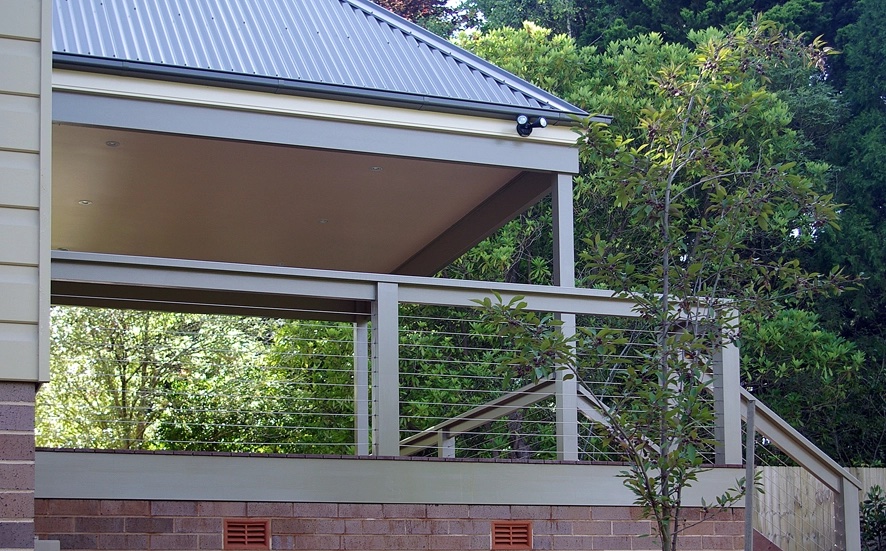 Additional Information
| | |
| --- | --- |
| Weight | 1000 kg |
| Dimensions | N/A |
| Size | 66mm x 30mm F7 (Special Order), 90mm x 30mm F7 (Special Order), 138mm x 30mm F7, 185mm x 30mm F7, 230mm x 30mm F7 (Special Order), 280mm x 30mm F7 (Special Order), 66mm x 42mm F7, 90mm x 42mm F7, 138mm x 42mm F7, 185mm x 42mm F7, 230mm x 42mm F7, 280mm x 42mm F7, 140mm x 65mm GL8 (Special Order), 180mm x 65mm GL8 (Special Order), 240mm x 65mm GL8 (Special Order), 280mm x 65mm GL8 (Special Order), 42mm x 42mm, 42mm x 31mm, 42mm x 18mm, 66mm x 18mm, 90mm x 18mm, 116mm x 18mm (Special Order), 138mm x 18mm, 185mm x 18mm (Special Order), 230mm x 18mm (Special Order), 280mm x 18mm (Special Order) |
| Length | 1.8 Metres, 2.4 Metres, 2.7 Metres, 3.0 Metres, 3.6 Metres, 4.2 Metres, 4.8 Metres, 5.4 Metres, 6.0 Metres, 6.6 Metres, 7.2 Metres, 900mm (0.9M) |
OUR GUARANTEE TO LONG-LASTING
Design Pine quality exterior timber is ideal for exterior and above-ground use, featuring built-in protection and treated with primer to ensure resistance to fungal decay and termite attack.
OUR GUARANTEE TO LONG-LASTING, QUALITY EXTERIOR PINE
Design Pine quality exterior timber is ideal for exterior and above-ground use, featuring built-in protection and treated with primer to ensure resistance to fungal decay and termite attack. This resistance is a guarantee with all our products, provided all timber is properly installed. We understand the worries and concerns of choosing a natural wooden timber for exterior projects, which is why we've treated our for above-ground (H3) use ensuring superior quality for longer.
EXTERIOR AND ABOVE GROUND TIMBER PRODUCTS
Builders and tradesmen should note and understand that these circumstances are not included in the guarantee:
Deterioration or damage to Design Pine outdoor timber due to causes other than fungal decay or termites;
Shrinkage, swelling, splits and other inherent physical properties of wood itself;
Minor damage that does not affect the structural or functional capacity of wood products;
Improper use or installation of Design Pine above ground exterior pine;
Wood products that are not installed in accordance with installation guidelines.
For more information on limitations and terms and conditions, please get in touch with the Design Pine team and we can outline everything included in the exterior pine guarantee.
ASSURED QUALITY FOR YOUR PROJECT
There are a number of uses for our quality exterior timber, including cladding, fascia, window and door reveals, fence pickets, deck bearers, posts, pergolas and other similar outdoor structures. If you are interested in finding out more about our trusted and treated pine, get in touch with us today. We are happy to help you start your new project.