Cost of Composite Decking vs Timber over time
Is it worth spending the extra money on Composite Decking?
You're weighing up the options and checking out different samples, your new deck is going to be the "piece de resistance" of your backyard makeover.
You've started looking into composites as the no maintenance approach is a huge drawcard. You've discovered Trex Transcend with its beautiful timber like grain and patterns. You're almost sold and over the line.
The guy behind the counter at Demak has already told you that Hideaway is twice as fast to install as regular screws, and that the Klevaklip Trex System is a whopping five times faster!
One question remains. How much more will this cost me than Merbau or Spotted Gum?
Well, look no further! Here is our handy comparison guide showing total cost including upkeep of a Trex, Modwood or Merbau Decking over a ten year span.
Ask your future, older and wiser self which was the right decking choice?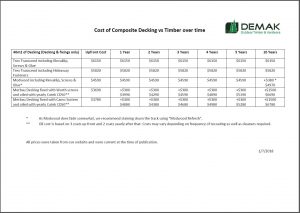 Click here to download the Cost Comparison Sheet