Which Composite Decking should I choose?
There are so many composite deckings to choose from in Australia right now.
How do you know which composite deck to choose? Isn't it all just plastic decking?
Full disclosure here, at Demak Timber & Hardware we stock and recommend the number 1 selling composite deck in the world, Trex Transcend Decking.
We also stock Modwood which is an Australian made uncapped WPC decking. (Made from recycled milk bottles and sawdust.)
Other brands that we can supply by special order include Millboard, Timbertech, Azek, Nexgen / Fiberon and Newtech Wood.
(Please note, we do not stock any of the following; Britedeck, Duralife or Futurewood)
But the question you are asking yourself is, "What is the best composite decking in Australia?"
We have compiled this composite decking review so you can compare the difference and make up your own mind.
We have Trex, TimberTech, Azek and Modwood on display at both stores so pop down and see us and grab a sample.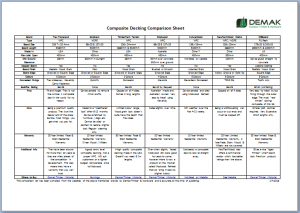 Click here to download the Composite Decking comparison sheet
Still unsure what decking to use? Here is some advice to help you on your way.
Step 1. Collect as many samples as you like.
Step 2. Perform your own scratch and durability tests. (does the edge of the cap chip away under your fingernail?)
Step 3. Spill some red wine and bbq fat on them and see how easy they are to clean after 48 hours.
Step 4. Are BAL and Slip ratings important to you? Ask to see the written reports. If the testing was not conducted by Australian testers, throw the samples in the bin.
Step 5. Call Demak Timber to discuss your findings. (We love chatting about this stuff…)