Bamboo Protector & Rejuvenator – Oil / Stain for Bamboo Screens

Openpay is available on orders from $50 - $10,000.
Please note. As this product is flammable we are unable to send it by Auspost or Fastway.
Pick up or Demak Truck delivery only unfortunately…
There are some freight companies that offer a flammable goods service, but this will add a $200 surcharge.
Product Description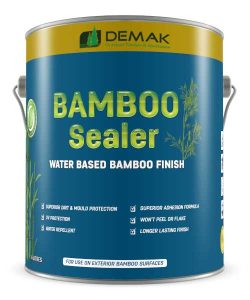 Specially formulated for application on Bamboo products.
If you've ever had a bamboo screen in your backyard, you know how quickly it can become grey and weathered.
Bamboo Protector and Rejuvenator will help protect the bamboo and restore your backyard feature to its original glory.
How much will I need?
1 Litre will do about 8-16 square metres, but depends heavily on the species, age and dryness of the bamboo.
How do I prepare and apply it?
Make sure all loose particles and dust are removed from the bamboo. We recommend using Bamboo Cleaner to remove any mould, fungus and dirt.
Once dry, you can spray or brush straight on.
Do Not Apply below 12 degrees C or in extreme heat.
Some newly installed freshly coated bamboo (Bamboo Protector & Rejuvenator – Black)
Additional Information
| | |
| --- | --- |
| Weight | 500 kg |
| Dimensions | 200 x 200 x 200 mm |
| Shipping | Please contact us for a quote to freight. Unfortunatly there is a dangerous goods surcharge of $60.00 to send interstate from Melbourne. |