Product Description
CUTEK® EURO
CUTEK® Euro is a copper-free formulation of CUTEK®'s Extreme CD50 and can be applied to very light-coloured timbers where the possibility of a faint green hue can occur in the timber when using CUTEK® Extreme CD50 or CUTEK® Wood Preservative.
CUTEK® Euro is a high-performance, oil-based wood stabiliser with a unique self healing effect. Penetrating deeply into timber, CUTEK® Euro highlights the natural grain and beauty of wood whilst providing robust and long-lasting protection. CUTEK® Euro will not flake or peel and maintenance is fast and simple – no need to sand or strip.
CUTEK® Euro is made in Australia for Australian conditions. CUTEK® Euro diffuses throughout wood to control liquid and gas phase moisture, to minimise warping, cupping and splitting. By improving the dimensional stability of wood, CUTEK® Euro improves the service life of your timber.
CUTEK® Euro enhances the natural beauty, grain and texture of timber. Applied as a clear oil, CUTEK® Euro will allow timber to naturally silver over time. Mixing in one of 16 CUTEK® Colourtones will help to enhance and maintain the freshly oiled natural look of your timber or alter your timber colour to meet your design requirements.
CUTEK® Oils
=
True penetration and migration with self healing
Competing Natural Oils / "Penetrating Oils"
= Encapsulating coating
Features
Stabilises your wood – long-term accumulative protection
Simple and easy to use
Maintenance is fast and simple
No flaking or peeling
Cost effective – up to 2x coverage rate of most wood coatings
Australian Made
Unique self-healing effect
Sustainable choice – significantly extends the service life of timber
Coverage
Ideally 3 very thin coats as Cutek can take a while to dry.
5 litres will cover approx 10 m2.
Lots more info about Cutek Euro here:
Related Links: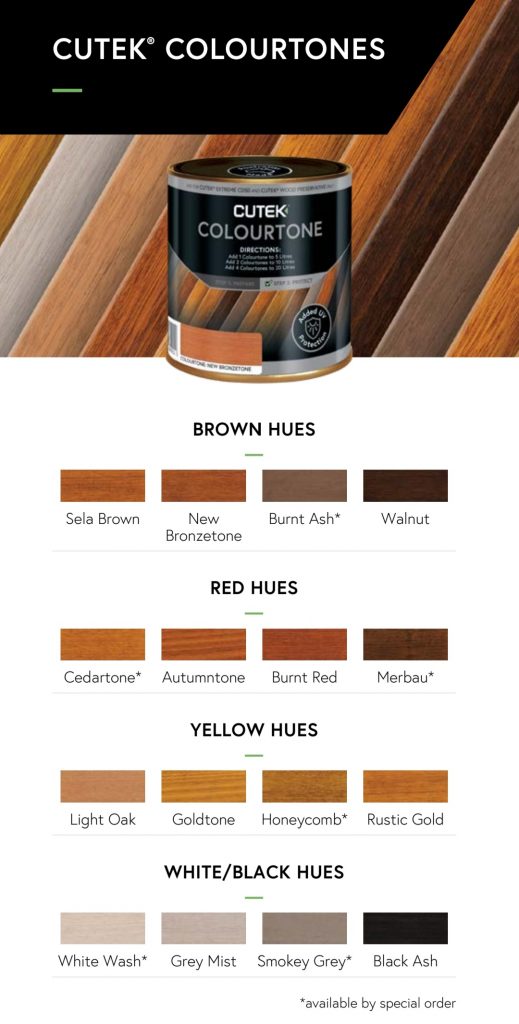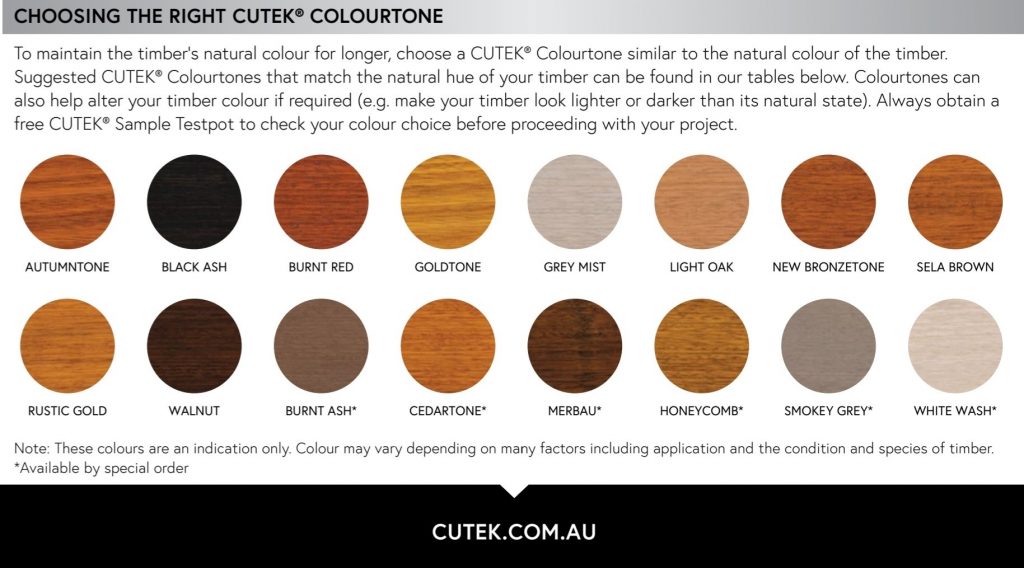 Note: Colour samples here are shown on western red cedar
CUTEK® EURO OFFERS SUPERIOR PENETRATION AND DIFFUSION WITH A SELF-HEALING EFFECT
CUTEK® wood oils work differently to traditional wood stain/wood oil/acrylic/urethane/natural oils/wood coating products in that CUTEK® oils protect your timber from the inside out. CUTEK® oils penetrate and diffuse deeply into the wood core upon application, protecting it from the damaging effects of liquid and gas phase moisture, significantly increasing the service life of your timber. It does this by remaining PERMANENTLY MOBILE inside the wood, migrating to any cut or perforation with a self-healing action.
Many opposition products claim to be a penetrating oil finish; however, they often contain a mixture of solvents, polymers and cross-linking natural oils (such as linseed and tung oils) that penetrate only a few millimetres before drying to form an encapsulating type varnish. Because these coatings do not have a self-healing effect, once this varnish is exposed to the weather, water can quickly enter the core of the timber especially if it has been cut or perforated with fasteners leading to a rapid loss of dimensional stability. Additionally, the use of some natural oils in wood coatings can contribute to the development of unsightly mould and fungal growth underneath subsequently applied coatings. This situation can be difficult and costly to fix.
Additional Information
| | |
| --- | --- |
| Weight | 5.5 kg |
| Dimensions | 20 x 20 x 20 mm |
{ "@context": "http://schema.org", "@type": "VideoObject", "name": "CUTEK Oils: How They Work 2022", "description": "CUTEK Oils: How They Work 2022", "thumbnailUrl": "https://i.ytimg.com/vi/vOlTrMr-lJc/default.jpg", "uploadDate": "2022-08-01T23:50:32Z", "duration": "PT2M23S", "embedUrl": "https://www.youtube.com/embed/vOlTrMr-lJc", "interactionCount": "221"}