Product Description
BUILT TO LAST
SOLO is our post base and wall mount bracket. It allows you to mount your structure to a surface or attach it to a wall. The flange has four oversized holes that enable you to secure your pergola to a deck, concrete, brick or any other surface you choose.
Check out the instructions and other products here
INCLUDED
1x SOLO Pergola Post Base \ Wall Mount Brackets
38mm Pan Head 304 S.S Timber screws with Black plastic head caps
NOT INCLUDED
FEATURES
2.0mm Canadian Steel
Canadian Made Brackets
Weather-Ready: Coated in weather-resistant materials
Laser-cut, bent, and welded
All hardware, to secure to timber, is included
Packaged with 12G x 38mm Pan Head 304 S.S Wood screws with black plastic head caps
5-year limited warranty
8 fastening holes per side for attaching accessories
SPECS
Category: 90×90
Arm Opening (Interior): 91.7mm x 91.7mm
Arm Opening (Exterior): 95.3mm x 95.3mm
Arm Height: 177.8mm
Gauge: 2.0mm Canadian Steel
Overall Size (1 Pc.): LxWxH: 152.4mm x 152.4mm x 177.8mm
Colour: Black
Weight (1 Pc.): 2.3kg
Fastening Holes: 6.35mm
Flange: 25.4mm
Securing Holes: 9.525mm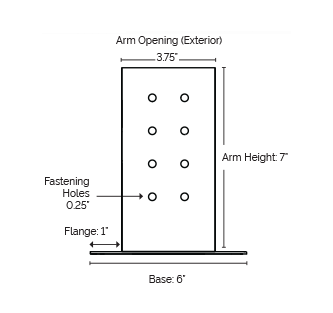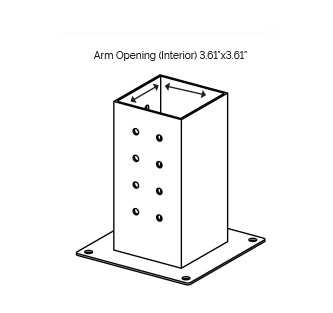 TIPS
GENERAL
We recommend that you buy your timber from us obviously! But if you are interstate, it's a good idea to take a bracket with you when you purchase your timber to test fit.
TIMBER
Our 90×90 brackets accommodate dressed timber, commonly called 4×4 DAR at local building supplies. The actual measure is 90mm x 90mm.

SCREWS
Each bracket only requires 2 screws per each side/set of eight holes.
Insert screws in holes closest to the timber.
Hardware to secure to timber is included.
Additional screws are available for purchase
Additional Information
| | |
| --- | --- |
| Weight | 1.5 kg |
| Dimensions | 160 x 160 x 200 mm |